So I totally forgot to update the blog on our trip to the Cincinnati Children's Museum.
I honestly cannot rave enough about it. We've done a lot of things with Grayson and this is by far one our favorites. We are definitely buying a season pass!
I've uploaded a ton of pictures, but it doesn't do the museum justice AT ALL.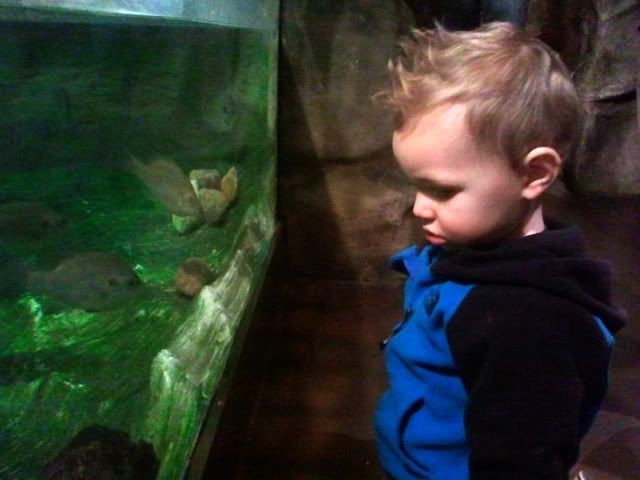 They have a small aquarium area. Grayson kept walking over to the fishies..it was really cute
This was in the "cave area" - this section of the museum will be GREAT next year. While Grayson had fun here, there were a couple things he wanted to do, but couldn't because he was a little too young.
Climbing through the caves....
This part of the museum "Little Sprouts" was perfect for Grayson. All the activites were geared towards young toddlers. They had a little mini slide, sandbox, push toys, and other toddler friendly toys. This room was sectioned off into a room with a door so that the kids couldn't just run away. SO PERFECT!
I love G's face here..he's like "what the heck?"
And then he got into it...
This was another separate room - it had a "crane" toy that dumped the rocks and the kids could scoop them up and dump them back in.
There was a Lego area around the corner from the "Crane"
This was Grayson's favorite part of the museum...the "ball pitt". It was a ball pitt in the typical sense of a ball pitt. He is totally in awe...

Look at him playing with the big boys! The older kids are helping the balls get sucked up into the tube! Grayson is trying to get his ball sucked into the sideways tube.
Like I said, we didn't get a picture of EVERYTHING...and the pictures I did take aren't very good. But you get the "picture". It's pretty awesome for kids.
We leave for Gatlinburg tommorrow - yey! So excited for hiking, shopping and relaxing with my favorite people!